Looks Like University Of Illinois - Devon Witherspoon
Robert
Aug 14, 2019
[]
[]
1 Comments
You have currently viewed 1 story this month.
IlliniBoard now offers two free stories per month, for more please subscribe.
This is a fascinating one. Whenever a player commits in July and shows up to camp in August (think Mike Davis in basketball), it's always a head scratcher. No Big Ten-level athlete would still be available at the end of July, right? Here's what I found while digging.
The best information comes from this article in the Pensacola News Journal. The best snippets from that article:
Witherspoon had 74 tackles, nine pass breakups, and an area-high seven interceptions in his senior 2018 season.
He began his football career as an upperclassmen (meaning he didn't play football as a freshman or sophomore).
He was part of three district championship teams in his senior year at Pine Forest - football, basketball, and track.
His efforts across three sports earned him the honor of overall Pensacola News Journal Male Athlete of the Year at the annual PNJ sports banquet.
OK, all of that sounds pretty good. But why would an athlete who reportedly had 10 offers after the season still be available in July? Why didn't he sign somewhere in February?
Witherspoon was set to play at Hutchinson Community College (Kansas), but earned summer qualification earlier this month when he passed his June 1 SAT.
Now this is starting to make sense. I think I can imagine this whole scenario.
Kid is really athletic. Maybe loves basketball and track. Someone convinces him to go out for football his junior year. Likes the game, plays football again as a senior, grabs seven interceptions, suddenly he's getting college offers.
But, like a lot of kids who break out their senior year, they weren't really planning to get past the NCAA Clearinghouse earlier in their high school career. So now you're a high school senior and you're scrambling to get the test score and transcript necessary to play college sports. Your test scores just aren't there, so Signing Day comes and goes in February without signing anywhere. You are headed to juco.
Then, in June, you reach full qualification. Maybe it took a summer course at Hutchinson to clean up the transcript. Maybe it was just the test score. But now you're qualified to go play college football somewhere. Illini cornerbacks coach Keynodo Hudson had been recruiting you when he was at Florida Atlantic, he's now at Illinois, Illinois still has three scholarships open and are looking for cornerbacks, and next thing you know your stay at Hutch was two months before heading off to the Big Ten.
I can dig it. Especially since the first comp that comes to mind is Walt Aikens. Aikens was very similar out-of-nowhere recruit in the 2009 class. Suddenly, a few days before Signing Day in 2009, an unknown ATH who played football, basketball, and track in high school (in Charlotte) was visiting Illinois. The two-star recruit verbals to Illinois and we all look around like "who?". I remember that all I could find at the time were basketball videos.
Aikens' stay in Champaign didn't last long. An arrest led to his dismissal from the team in... 2011 I want to say? He landed at Liberty University. And then he was drafted by the Dolphins in the fourth round. And he's now about to enter his sixth season with the Dolphins.
That feels very similar to this one. You know what I always say - unknown and not ranked is way better than known and ranked low. Aikens ended up winning my Asamoah Award (once I got my hands on some football film), so I'm probably getting ahead of myself with this comp, but that's what this one feels like.
Film is pretty good too. He's very raw, but seven interceptions are seven interceptions (and they're all on there). And it's Class 6A in Florida, so it's decent competition.
I really liked this, too. Love a good cornerback rundown at the one: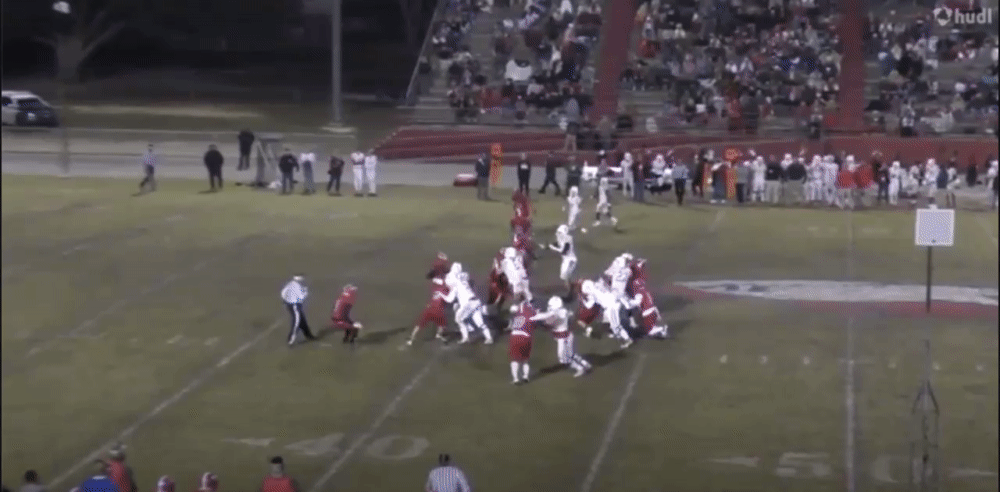 So I'm going to go a little higher on Tom Cruises than just "unknown, unranked kid gets 1.5 Cruises". I think this is a sneaky find (like Walt Aikens was) and gives us a player who might contribute in the defensive backfield.
Devon Witherspoon - Two and one-half Tom Cruises.