Looks Like University Of Illinois - Dylan Wyatt
Robert
Mar 04, 2018
[]
[]
0 Comments
Here's how far behind I am on this 2018 football recruiting class: until today I thought Dylan Wyatt was a junior college recruit. He picked Illinois three days after Signing Day, and because he goes to "St. Mary's College High School", I only saw the "college" and thought that meant "Bay Area Junior College". In fact, I was on the radio with Jeremy Werner this week and I think I referred to "the two juco corners" (meaning Wyatt and Nick Walker). Be better, Robert.
But I finally have time this afternoon to run through the final two LLOUI posts (from A MONTH AGO), so here we are. At Dylan Wyatt. The only one-star recruit I can ever recall on the 247 Composite list (seriously, check the bottom of this list - one star). And maybe it's because I went into this film expecting absolutely nothing (I mean, one star), but, uh, this is pretty good film.
Before we get to that, one note. When looking at his film something looked weird in the background. Like, part of the turf was brown over by the far sideline. And it looked like there was a lot of turf behind that sideline. What was going on there?
So with help from my friend Google Maps, I looked up the aerial of his high school (near the Cal campus in Berkeley) and, well, see above. Yes, that's a combo football/baseball turf field (the brown is the second base "dirt") and when they run track the track isn't an oval it looks more like Daytona or Talladega. "And the runners in this 3200 Meter race head into turn five with Masterson pushing for the lead...". Amazing.
Anyway, to the football. You can see why Lovie offered here. If I say "cornerback" and "Lovie", what's the first word you think? "Tall", right? It should be "tall". When that conversation comes up at your next dinner party, say "tall". Lovie loves tall corners.
Which is why he brought in Nate Hobbs and why he loves Tony Adams and why he liked Jaylen Dunlap and why he played Ahmari Hayes over other guys like Frank Sumpter and why he's bringing in Dylan Wyatt. I think he's asked his staff to scan the country for tall corners who are tall and also tall.
Now, you have to be tall but also a corner-like athlete. He's not going to go find a bunch of 6'-3" wide receivers and turn them into cornerbacks. They have to be shifty like a corner - flipping hips and whatnot. It's a very specific athlete he's looking for. Being physical is more important than being super fast. Tim Beckman wanted shorter, punt returner-types as cornerbacks (think V'Angelo Bentley, Darius Mosely). Lovie wants height and physicality.
And Lovie wants players who tackle like this: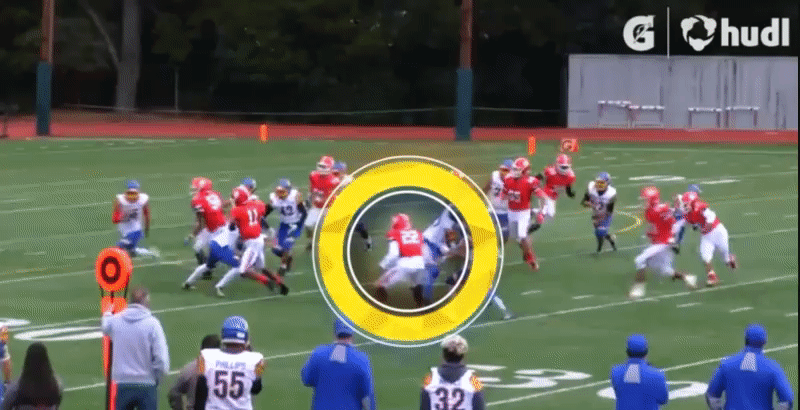 That's some great film right there. Tackling as a defensive back - a bullet fired at the hips (which is why so many players try to hurdle because it's really your only option when the DB stays low).
The rest of his film is good as well. A wrestle-away interception. A few "stay calm, read the play, shed the block, tackle the ballcarrier" tackles on run plays. And a punt return for touchdown for good measure.
Now, the competition doesn't appear to be very good. At least on some of the plays. I'm guessing this is some kind of smaller, parochial league. But I can totally see why Lovie offered (even though the kid's best offer was San Jose State). I like this one. Fits exactly what they're looking for.
I'm not going to go crazy with Tom Cruises (he's not a plus, PLUS athlete who jumps off the film). But I came into this one expecting to go with one Cruise and that's not the case at all. This is a decent 2.5 Cruiser.
Dylan Wyatt - Two and one-half Tom Cruises