Looks Like University Of Illinois - Ezekiel Holmes
Robert
Feb 28, 2018
[]
[]
2 Comments
Do you know what goes through my mind when I hear the name "Ezekiel"? Like, EVERY time? Weird Al's "Amish Paradise" and the phrase "Even Ezekiel thinks that my mind is gone". Every single time. Talking heads are talking about Ezekiel Elliot? "But if I finish all my chores and you finish thine then tonight we're going to party like it's 1699".
Anyway, Ezekiel Holmes picked Illinois like a month ago and I'm just now getting around to his LLUOI. Which is lame because I really like this kid's film. Calvin Avery verballed and I wrote his LLUOI fifteen minutes later. Ezekiel Holmes? A month.
Holmes is pretty much Isaiah Gay from last year. A complete unknown until his senior season, then some late January offers and a verbal. For Gay it was Elon University offering (and him almost signing there) followed by East Carolina and Illinois getting involved. He eventually picked the Illini (and then was probably the biggest surprise of the recruiting class). For Holmes it was Air Force and Washington State offering late, then a visit to Illinois and a verbal.
(I just realized the biblical defensive line we're building with Ezekiel and Isaiah. Is there a Nehemiah we can recruit in the 2019 class?)
Holmes and Gay appear very similar on film as well. Skinny, need to add 35 lbs of muscle, but the kind of frame you want in a defensive end.
Take this play. This is the kind of athlete that defensive coordinators drool over. When a defensive end is chasing a quarterback, the ability to keep his balance while changing direction is so key. This here is some great agility: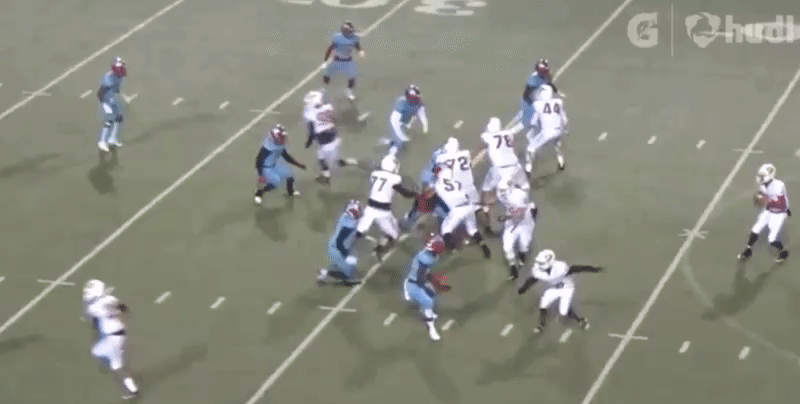 Right now, he's only maybe 210 lbs. That's not big enough to play defensive end in college. But add some muscle and keep that agility? This is an exciting player for the future.
And, honestly, this staff's evaluation of defensive linemen last year is playing into my excitement here. When we offered Gay, I scratched my head (and gave him 1.5 Cruises I believe). Then I saw Gay (and Jamal Woods and other low-ranked high school defensive ends) in camp and I got it. I see what they're trying to do, how these players fit, and how much potential they have.
Knowing that, if I went back and evaluated Gay's film again, I'd likely give him more than 1.5 Cruises. And this film is probably better than that (Gay was even smaller than this in high school - like, basketball skinny), so I think I might have to double those Cruises.
Ezekiel Holmes - Three Tom Cruises