Looks Like University Of Illinois - Delano Ware
Robert
Dec 18, 2017
[]
[]
0 Comments
You have currently viewed 1 story this month.
IlliniBoard now offers two free stories per month, for more please subscribe.
Last year's flips were quite good ones. We flipped Nate Hobbs from Western Kentucky, Jamal Woods from Memphis, and DelShawn Phillips from Arizona. This year there have been two: Julian Pearl from NIU and now Delano Ware from Nevada.
Ware had picked Nevada back in October (offers from Nevada and Air Force) but, much like Nate Hobbs, some solid senior film earned him an Illinois offer and he flipped immediately. I'm writing three of these tonight and I have to say - I like Ware the best. Even more than the guy who's a four-star on Rivals and ESPN (Unije).
Lovie wants turnovers. He has his defensive staff wear shirts that say "3+", meaning "force 3+ turnovers". To do that, he needs linebackers and defensive backs who can grab interceptions and force fumbles. Ware's senior film is pretty much him grabbing interceptions, stripping the ball, and delivering blows Stanley Green-style (OK, Stanley Green-style probably needs to be defined as "targeting" until he learns to stay low but you get the point).
Lovie also wants sure tacklers at safety (see Williams, Bennett), which means that the technique needs to be perfect. Which is why I'm highlighting this fourth-down play on his film. Opponent just needs a yard, Ware (at safety) is playing on the LOS (much like we'll sometimes do with our strong safety), he holds his position, low-man-wins wins, and not only prevents the first down, he carries the guy into the backfield.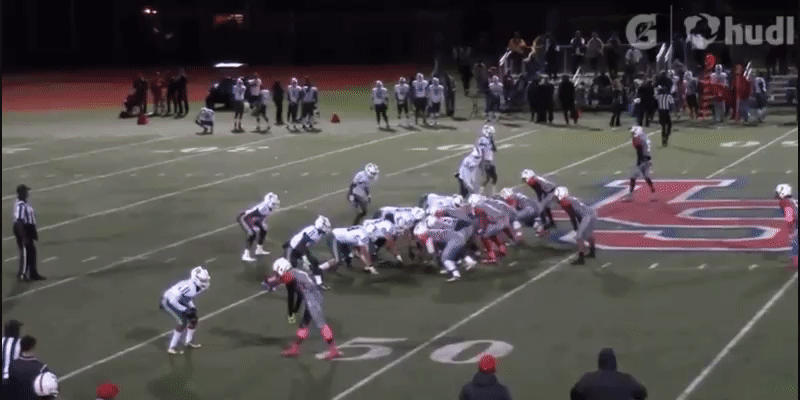 I can see James Kirkland walking this film into Lovie's office and Lovie instructing to offer on the spot. This is the kind of defensive back Lovie wants to bring to Champaign. Unafraid to fly into anyone with the ball.
Now, the reason someone like this is committed to Nevada? Athleticism. He's not a plus athlete, and that's going to limit your offers. But this is why I preach "scheme offers" so much. One man's junk is another man's treasure. This one, to me, is a perfect scheme fit.
And we need safeties. With the departure of Pat Nelson, safeties for next year are Stanley Green and Bennett Williams as the starters with Dawson DeGroot (hey, there's another flip, from Florida International, simply because he could hit) and Harvey Clayton (a Cubit recruit) as the backups. Beyond that it's WIIDE open so I could see them grabbing three safeties in this class.
Tom Cruises - I like Ware a lot. I think he fits exactly what they're trying to do in the defensive backfield. So even though he's not rated very highly and has no other Power Five offers, I'm still going three Tom Cruises. Great get.